MRI for pets
EquiSound has the first MRI system in the Benelux that can be used for both horses and pets.
EquiSound MR centre is an independent centre for MR investigations and the associated neurological examinations. Apart from a team of equine veterinarians. A prior thorough neurological investigation is important. This helps to determine the region to be scanned and estimate the importance of the MR abnormalities. We attach great importance to the communication with the first line and/or referring veterinarian(s).
Waarom MRI?
MRI staat voor Magnetic Resonance Imaging. Het is een gedetailleerde beeldvormingstechniek die heel waardevolle informatie kan geven over allerlei structuren in het lichaam die met andere beeldvormingstechnieken (vb. radiografie (RX), echografie, CT) niet zichtbaar kunnen worden gemaakt. Voor neurologische patiënten is MRI een onmisbare techniek, omdat zowel de hersenen, het ruggenmerg en de uittredende zenuwen grondig en 3-dimensioneel kunnen worden onderzocht. Uiteraard zijn er nog tal van andere toepassingen mogelijk zoals bijvoorbeeld orthopedie (kruisbanden, botoedeem, tumoren…). Bovendien wordt er geen gebruik gemaakt van schadelijke straling, wat wel het geval is bij radiografie en het nemen van een CT-scan.
What is MRI?
MRI is a complicated technique using magnetic fields and radio-frequent pulses. The animal is placed in the magnetic field. At that moment all hydrogen protons will align in the same direction parallel to the magnetic field. The hydrogen protons are triggered by a radio-frequent pulse and get out of balance, after which they move back to the previous position again. During this process, energy is released and transmitted to a receiver coil. The computer translates this received energy into an MR image. Each tissue (bone, fat, nerve or muscle tissue,…) contains a certain amount of hydrogen protons leading to different amounts of transmitted energy when placed into the magnetic field. Therefore, MRI is able to visualize and differentiate these types of tissues.
Different types of sequences can be obtained based on the interaction of hydrogen protons and the magnetic field. Per sequence, three different projections (sagittal, transverse and dorsal) are possible. All images together give us a lot of anatomical and pathological information.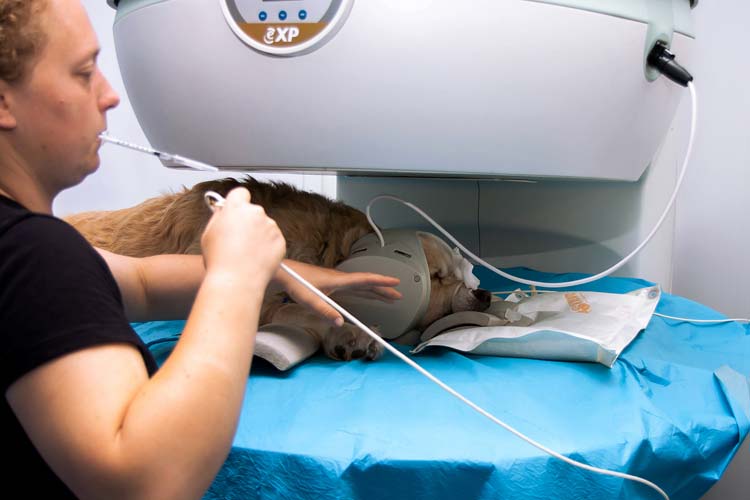 Indications
De grootste meerwaarde van MRI ten opzichte van andere beeldvormingstechnieken, is dat het in principe elk structureel probleem in of rond de hersenen, het ruggenmerg of de perifere uittredende zenuwen, in beeld kan brengen. Daardoor is het een optimale beeldvormingstechniek voor neurologische problemen.
MRI is dus een excellent hulpmiddel in het stellen van een diagnose bij neurologische patiënten, waarna een gerichte behandeling en prognose kan worden gegeven. Enkele voorbeelden van neurologische aandoeningen bij hond of kat waarvoor MRI zinvol is vindt u hieronder.
Ter hoogte van de wervelkolom:
Discus hernia
Ziekte van Wobbler (cervicale spondylomyelopathie)
Syringomyelie
Lumbosacrale stenose
Spinaal arachnoid diverticulum
Tumoren in of rond het ruggenmerg
Infarct in het ruggenmerg (fibrocartilagineus infarct)
Ontsteking van de tussenwervelschijf (discospondylitis)
Aangeboren wervelmisvormingen
Ter hoogte van de hersenen:
Hersentumoren
Herseninfarcten
Waterhoofd (hydrocefalus)
Cystes in de hersenen
Hersenbloedingen
Cognitieve dysfunctie (dementie)
Een MRI kan ook gebruikt worden om alle onderliggende structurele oorzaken van een symptoom uit te sluiten. Zo kan men de diagnose van idiopathische of primaire epilepsie pas met 100% zekerheid stellen indien geen structurele hersenproblemen kunnen gezien worden. Zeker bij honden die minder goed reageren op medicatie tegen epilepsie is het heel belangrijk te weten dat er geen onderliggend hersenprobleem aan de oorzaak ligt. Daarnaast is MRI ook geschikt voor het detecteren van orthopedische problemen zoals kruisbandletsels, peesblessures, bottumoren etc.