MRI-scanner for horses
EquiSound features the first MRI scanner in the Benelux that allows us to scan a horse from foot to stifle, including head and neck. This MR system is unique in the world in its ability to scan horses both standing and under general anesthesia.
An MR scanner is the most advanced device for the imaging of bones, tendons and ligaments. It yields much more detailed images than radiology, ultrasonography and Computed Tomography (CT). With MR we can evaluate both soft tissue (ligaments, tendons and cartilage) and bone in three dimensions (3D), which is not possible with radiology or ultrasonography.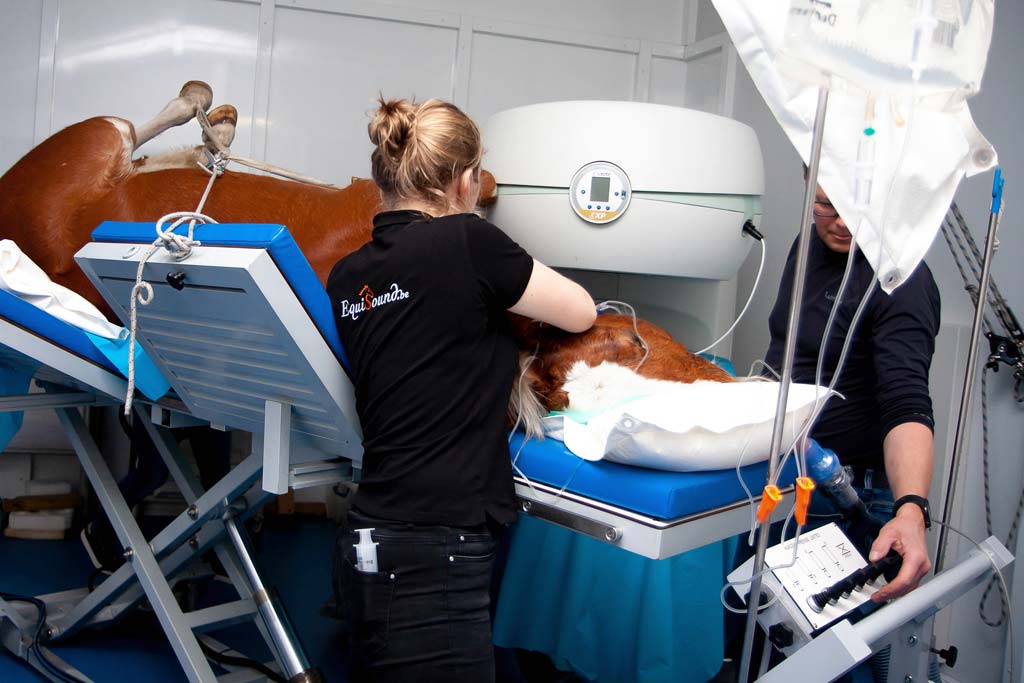 Standing and under general anesthesia
The advanced device at EquiSound allows us to scan a horse both standing and under general anesthesia. This is unique in Belgium. It gives us the possibility to scan every region of the horse from foot to head. This is not possible with devices that can only scan the standing horse. The foot of the horse can be examined on the standing horse. For an MR scan of the other regions, e.g. the stifle, general anesthesia is required, otherwise there is too much movement to obtain good images. When the horse is under general anesthesia, we have the big advantage we can get images of a higher resolution and quality. This way we can better estimate the prognosis for the horse. Thanks to the assisted recovery, your horse will wake up and stand up safely.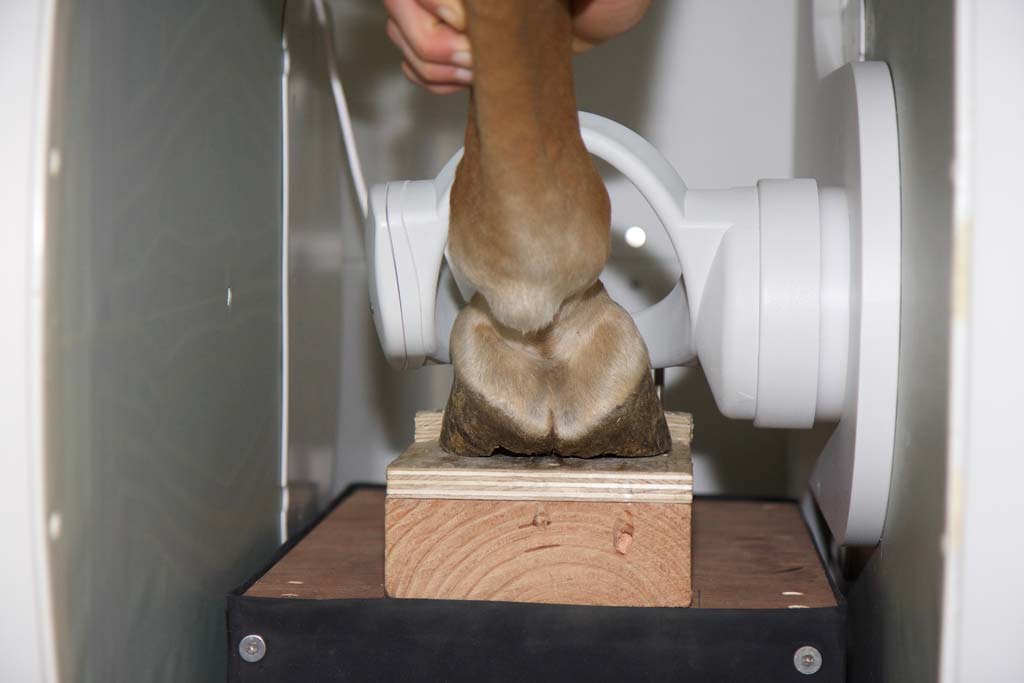 Hoe werkt MRI?
MRI is een beeldvormingstechnologie die gebruikt maakt van magnetische velden en radiogolven. Tijdens de scan wordt het dier in een magnetisch veld gebracht. Hierdoor gaan alle waterstofatomen in dezelfde richting bewegen. Met behulp van een radiogolf worden de waterstofatomen kort uit evenwicht gebracht, waarna ze opnieuw in dezelfde richting bewegen. Hierbij wordt energie afgegeven die wordt opgevangen door een antenne. Een computer vertaalt deze opgevangen energie vervolgens naar een beeld. Elk type weefsel (bot, vet, zenuwweefsel, spierweefsel,…) bevat een bepaald gehalte aan waterstofatomen die met een verschillende snelheid terugvallen in hun uitgangspositie. Dit zorgt ervoor dat ze van elkaar kunnen onderscheiden worden op de MRI-beelden.
Op basis van de interactie van de waterstofatomen en het magnetisch veld kunnen verschillende soorten beelden worden gemaakt (= verschillende sequenties). De sequenties kunnen in drie verschillende richtingen uitgevoerd worden. Al deze beelden samen, geven enorm veel informatie over de oorsprong en aard van de weefsels en afwijkingen.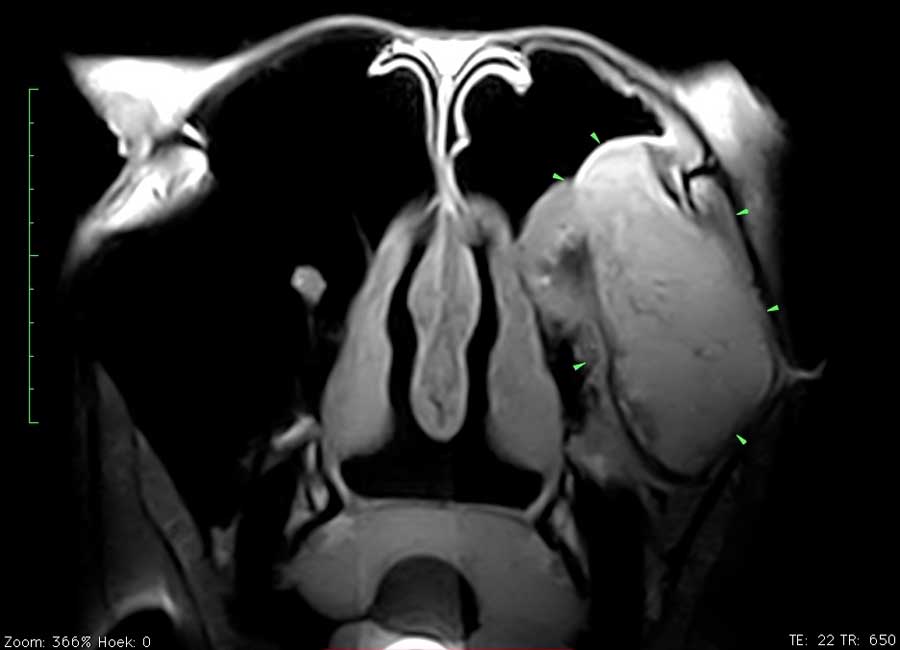 Voorbeeld
Dit paard had sinds enkele weken een unilaterale bloederige neusvloei. Op endoscopisch onderzoek was slechts een minimale afwijking ter hoogte van het linker ethmoid te zien. Bij radiografisch onderzoek was een grote massa in de sinus te zien. Er werd beslist een pre-operatieve MRI uit te voeren om de operatie te plannen en ook prognose beter te kunnen inschatten. Het ethmoid hematoom (PEH) bleek een groot deel van de linker sinus ingenomen te hebben.