EquiSound, Your Equine Veterinary Centre and MR Centre
Equisound is a veterinary centre for horses and an MR centre for all animals. Our centre offers a complete care for your animal. With a multidisciplinary team, we offer every client and animal a correct solution. Our principal rule is: First Diagnosis, Then Treatment.
All specializations united
The hospital started in 2006 as an orthopaedic centre and diagnostics but nowadays EquiSound has a complete team of specialists, each of them having their field of interest. Also surgery and specialized UTC and MR scans are available. Thanks to the close cooperation within the team of veterinarians and paramedics, your horse will be examined thoroughly. We offer full service on e.g. orthopaedics, ultrasonography, radiology, MRI, surgery, internal medicine, neurology, farriery, physiotherapy, …
A personal approach for you and your animal
One veterinarian is in charge of the welfare and complete management of your horse. If necessary, he or she will make an appointment with one of the other specialists. Thanks to dedicated teamwork and state of the art equipment, we get to a complete diagnosis, an honest advice and a customized treatment plan. The second part of EquiSound consists of an MR centre, where we make the most detailed orthopaedic and neurological exams of horses and small animals. Does your horse shows poor performance? Is there no or unsatisfactory result after treatment? Does your dog or cat has neurological troubles? … Contact your veterinary centre.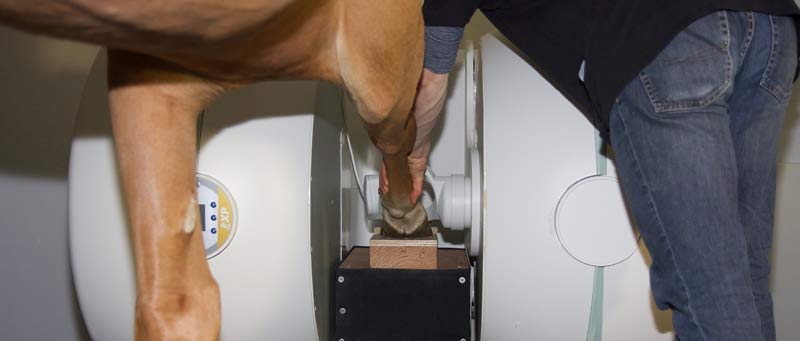 MRI SCANNER
EquiSound features the first MRI scanner in the Benelux that allows us to scan a horse from foot to stifle, including head and neck. This MR system is unique in the world in its ability to scan horses both standing and under general anesthesia. An MR scanner is the most advanced device for the imaging of bones, tendons and ligaments. It yields much more detailed images than radiology, ultrasonography and Computed Tomography (CT). With MR we can evaluate both soft tissue (ligaments, tendons and cartilage) and bone in three dimensions (3D), which is not possible with radiology or ultrasonography.
The advanced device at EquiSound allows us to scan a horse both standing and under general anesthesia. This is unique in Belgium. It gives us the possibility to scan every region of the horse from foot to head. This is not possible with devices that can only scan the standing horse. The foot of the horse can be examined on the standing horse. For an MR scan of the other regions, e.g. the stifle, general anesthesia is required, otherwise there is too much movement to obtain good images. When the horse is under general anesthesia, we have the big advantage we can get images of a higher resolution and quality. This way we can better estimate the prognosis for the horse. Thanks to the assisted recovery, your horse will wake up and stand up safely.
At EquiSound the interpretation of the MRI images is supported by Myra Barrett and Kurt Selberg, experienced MRI specialists in the USA. This way you are sure of superior diagnostics at EquiSound.