MRI-scanner
EquiSound features the first MRI scanner in the Benelux that allows us to scan a horse from foot to stifle, including head and neck. This MR system is unique in the world in its ability to scan horses both standing and under general anesthesia.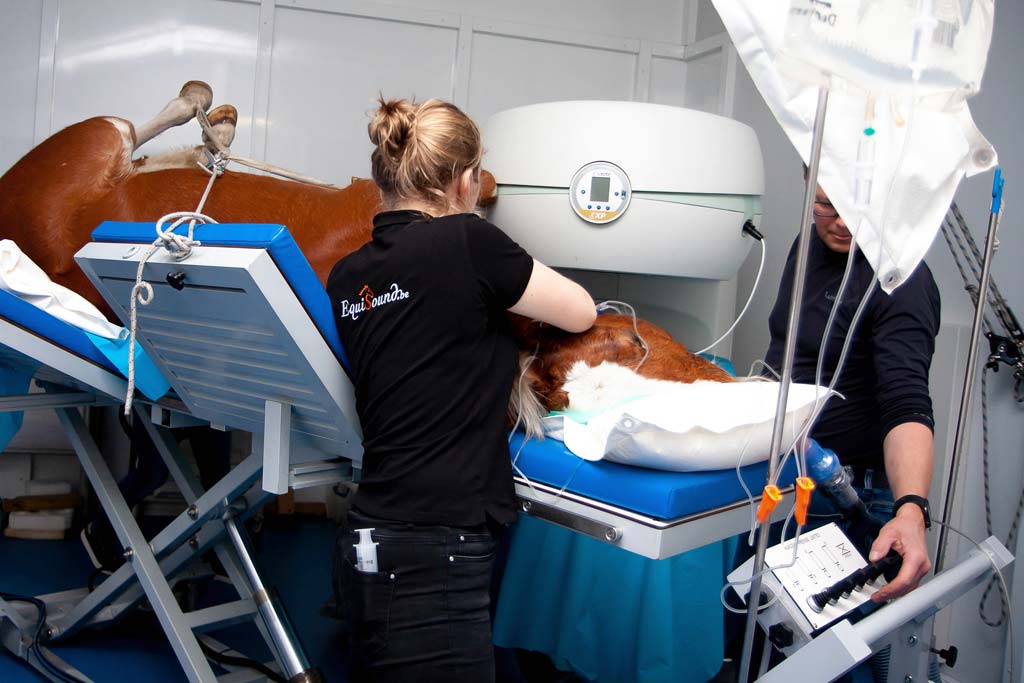 An MR scanner is the most advanced device for the imaging of bones, tendons and ligaments. It yields much more detailed images than radiology, ultrasonography and Computed Tomography (CT). With MR we can evaluate both soft tissue (ligaments, tendons and cartilage) and bone in three dimensions (3D), which is not possible with radiology or ultrasonography.
The advanced device at EquiSound allows us to scan a horse both standing and under general anesthesia. This is unique in Belgium. It gives us the possibility to scan every region of the horse from foot to head. This is not possible with devices that can only scan the standing horse. The foot of the horse can be examined on the standing horse. For an MR scan of the other regions, e.g. the stifle, general anesthesia is required, otherwise there is too much movement to obtain good images. When the horse is under general anesthesia, we have the big advantage we can get images of a higher resolution and quality. This way we can better estimate the prognosis for the horse. Thanks to the assisted recovery, your horse will wake up and stand up safely.
At EquiSound the interpretation of the MRI images is supported by Myra Barrett and Kurt Selberg, experienced MRI specialists in the USA. This way you are sure of superior diagnostics at EquiSound.